William Logan1,2
M, #263, b. 27 March 1832, d. 12 September 1925
William Logan|b. 27 Mar 1832\nd. 12 Sep 1925|p263.htm|James Logan|b. 1 Jun 1788\nd. 7 Nov 1836|p451.htm|Janet Allan|b. 21 May 1786|p460.htm|James Logan|b. 28 Dec 1757\nd. 19 Aug 1831|p399.htm|Elizabeth Fyfe|b. 12 Oct 1761\nd. 3 Jan 1841|p449.htm|Robert Allan|b. 19 Jan 1755|p458.htm|Ann Walker|b. 12 Mar 1758|p459.htm|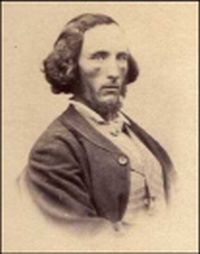 William Logan c1860
Birth*: William

Logan

was born on 27 March 1832 at Kilbirnie Parish, Ayr, Scotland, .4
Christening: He was christened on 22 April 1832 at Kilbirnie Parish, Ayr, Scotland, .3
Immigration: He immigrated on 5 July 1852 to Victoria aboard the 'CHOWRINGHEE' - 893 tons - Master George T Brown. The ship sailed from Plymouth on the 12th March 1852 and arrived in Hobson's Bay Victoria on 5th July 1852 (114 days). William was listed as passenger # 237 an Agr Labourer from Ayrshire, religion - Presbyt, he could read & write and was aged 30 (sic), and he was going on his own account to Melbourne. (Note that the age does not fit as he would have been about 20 but the dates fit other data).5
Marriage*: He married Isabella

Rodger

on 11 November 1858 at South Australia, .6
Note: Marriage notice for LOGAN William to Isabella Rodger appeared in the SA Register 12 Nov 1858 page 2 column C.7
Marriage*: William Logan married Alice Charlotte

Allen

, daughter of John Henry

Allen

and Louisa

Benfield

, on 7 February 1868 at Congregational Church, Bagots Well, South Australia.8
Death*: William Logan died on 12 September 1925 at Wilson, South Australia, at age 93.6,9
Note*: From a paper cutting at the time of William Logan's death it stated that he came out to Australia at the age of 21 years and in Melbourne worked at his trade as a carpenter for two years. He then took up land at Bagot's Well and farmed for some years. When the northern areas were opened up he took up land in the Hundred of Narridy. The block where he lived is only a couple of miles from where Max and Natalie Logan lived, and it was named 'Shadey Bower'. William Logan did the carpentering in the Huddleston School which opened in 1880. In a photo album that belonged to William Logan is a photo of John Logan and his wife Martha. The William Logan history provided for 'Hawker, Hub of the Flinders', says, - William Logan was born at Kilburnie Scotland in 1832, arrived aged 21 and settled first at Truro and later at Huddleston. Finally, when 61, he took up a farm near Wilson in 1893 where he died in 1925 in his 94th year. He named his farm (west of the town) 'The Dell'. Later he moved to another in the area naming it 'Glen Ness'. He was an able carpenter and some of his cupboards are still in use today. William loved poetry and often read the works of Shakespeare, Tennyson, and Wordsworth.2
Photo: He was photo Have photocopied photos of William in file #263 - Originals are held by Natalie Logan nee Fisher (#368) - Roger Logan's mother.