Heijbroek Family Line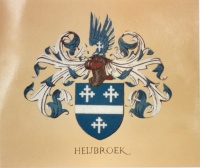 The Heijbroek line is my father's paternal line and has been traced back to c1670 in Hillewalsen near Herford in Germany.  By 1780 the family had moved to Amsterdam and are still to be found there today.  My granfather, Williem Cornelius HEIJBROEK worked for one of the Dutch Banks and travelled and lived in Indonesia where he met my grandmother, Hazel Mabel BROWN and they were married in Cheribon, Batavia (now Indonesia).  My father was born in Cheribon.  Williem & Hazel later divorced with Hazel marrying Cecil Maurice KIRKE and consequently my surname is KIRKE though my lineage is HEIJBROEK.
Most of the information I have is from the Heijbroek Genealogy compiled by Win Aten c1990 and supplemented by my own research on the later generations.
---
People associated with the Heijbroek line are indicated by the Netherlands flag

---