Brown Family Line
My Brown ancestors were British soldiers and civil servants in India for c1860 through to 1947. Much of this information I have has come from a series of letters to Hazel Brown from her father Walter Brown during WW1 and also from Will Ross Hayes (her uncle) during WW2. This has been supplemented by research in the wonderful treasure trove of microfilms available in the LDS Family History Centres and the IOIC collection in the British Library.
Below is a summary of some research into my great grandfather Walter Hugh Brown and his daughter (my grandmother) Hazel Brown which give an interesting insight into the times they lived in.
---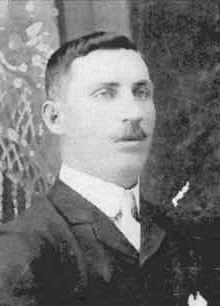 Walter Hugh Brown
Walter Hugh Brown was born in Alipor, Calcutta, Bengal, India on 24 Jul 1880 to Charles John Brown & Annette Elvina Grace Unknown.  At the time of Walter's birth Charles was an Inspector in the Bengal Police Force. At the age of 15 Walter joined the Royal Irish Fusiliers 1st Battalion in Allahabad India. He served in the Boer War where he receive campaign medals for Talana, Transvall and Orange Free State.  After the Boer War, the R.I.F 1st Battalion returned to barracks in Holywood Co, Down Ireland where I think he met his future wife. Walter transferred to the 2nd Battalion of the R.I.F. and returned to India, rising to the rank of Sergeant. In 1904 he transferred to The Indian Army as a Staff Sergeant. On 10th January 1905 he married Kathleen Teresa Cochrane (daughter of Lawrence Cochrane) in Bombay. Their only daughter Hazel Letitia Mabel Brown was born on the 10th February 1906 in Rawalpindi, India. The family returned to Ireland in late 1906 and Kathleen died on 9th January 1907 at her mother's residence, Church View in Holywood, Co. Down, Ireland. Walter subsequently returned to India with daughter Hazel. Walter continue to serve in the Indian Army mainly in the North West Provinces in what is now Pakistan and Hazel was left in the care of Walter's sister Letty and her husband Will Ross Hayes who was a Garrison Engineer at various locations in India. During the first world war, Walter served with the Supply and Transport Corp initially in Europe and then with the 3rd Division, Indian Expeditionary Force "D" in Mesopotamia. He was mentioned in dispatches twice and was promoted to Sub Conductor, Warrant Officer 1. Walter survived the War, however he died of septicemia from "Baghdad" sores on his legs on 23rd February 1919 and was buried in the Basra War Cemetery which is about 90 kilometres from the mouth of the Persian Gulf and now well into Iran.
---
Hazel Letitia Mabel Brown
Hazel was 13 when her father died and she was brought up by her Aunty Letty & Uncle Will in India. In 1929 she married Willem Heijbroek in Cheribon, Batavia (now Indonesia)and on 9 August 1931 their son, William John Osmund (my father) was born in Bandung, Batavia. Hazel later divorced Willem and subsequently married Maurice Kirke on 19th May 1938 in Tokyo, Japan. A daughter, Dawn was born on 10th August 1940. The family were in Singapore during the Japanese advance down the Malayan Peninsula in 1942. Hazel (who was pregnant with her second son) and the children were forced to flee firstly to Sri Lanka and then to South Africa. Maurice was captured by the Japanese and spent the rest of the War in a prison camp. The family were reunited after the war and subsequently settled in Australia in the 1950's
---
Research Interests
I am still looking for information on the following
Walter Brown's siblings and their families in India
The Cochrane family of Holywood, Co. Down, Ireland
Will Ross Hayes and any family in India
Campaigns of the Indian Army Expeditionary Forces in Mesopotamia during WW1
Origin's of Charles John Brown and his wife Annette Elvina Grace ????.
---
People associated with the Brown line are indicated by the Indian flag
---