During my research into my Logan line I have been fortunate to obtain copies of a number of early genealogies of various Kilbirnie families.  3 of these were written by William Logan of Coldstream, Kilbirnie and I have provided scanned copies of these for general interest.  The documents were written circa 1820 to 1860 and seemed to have referenced the original parish records as well as family members, however there are errors in the documents, whether they be transcription errors or what is unknown.  All of the data in these documents is contained in the Kilbirnie Logans data, with known errors corrected.  Details of William Logan are provided below.
The documents are
"Genealogy of  the Logan's of Kilbirnie" by William Logan c1855
"Genealogy of the Knoxes of Kilbirnie" compiled by in 1855 by Wm Logan
"Genealogy of the family of the Present (1855) George Dickie, Miller of Nether Mill Kilbirnie" compiled in 1855 by Wm Logan.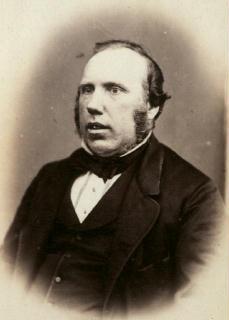 William Logan (1821 to 1869)
William Logan was born on 18th February 1821, to James Logan and Mary Mackie at Townhead in Kilbirnie.  On 7th Feb 1845 he married Margaret Law, daughter of John Law and Margaret Logan and they subsequently had 4 children, Margaret born 28 Aug 1848, William Dobie  christened 4 May 1851, James christened 2 Oct 1853 and Mary born 12 Aug 1859.  William was the Kilbirnie Parish Dominie and later the cashier to Messer's W & J Knox of Kilbirnie. 
William seems to have been a prolific writer and recorder and, apart from the 3 genealogies I have found, he also compiled the records of the Dalry Burns Club.  The adjacent photograph and notes below have been reproduced from the Dalry Burns Club website with their kind permission
"The first man who compiled and wrote the records of the Dalry Burns Club, now called the Cairn, in such a masterly fashion and with such splendid calligraphy, was William Logan of Coldstream, Kilbirnie. Born at Townhead on the 18th February, 1821, the first year his name appears in the Cairn is for the year 1853. He was President in 1864, and he died on 26th February, 1869, a comparatively young man of 48. The last year he wrote in the Cairn was for the year 1866.
Although it was one of the unwritten rules of the club - that nothing was ever to be seen in the papers about the club' affairs - the chairman's toast was reported in the year 1864, the year that William Logan (the compiler of records) was chairman. The same year, by a curious coincidence, the croupier was also named William Logan. He was the parochial schoolmaster of Dalry."
A review of the website reveals many other names connected to the Kilbirnie Logans and is worth reading through, especially the annual meeting reports as some details of each new member is included in the reports.